David Cameron has praised a pioneering vet for "undoubtedly changing the fate of scores of vulnerable animals".
Janey Lowes, 27, is the first vet to receive the Points of Light award – an accolade given by the Prime Minister to volunteers who make positive changes in their community.
Dr Lowes was nominated for the award in recognition of founding – and running – the charity WECare Worldwide, which provides veterinary care to animals in Sri Lanka.
Originally from Barnard Castle in County Durham, Dr Lowes was inspired to start the charity when she visited Sri Lanka on holiday and saw the suffering of the country's estimated three million stray street dogs.
On returning to the UK, she took action and, thanks to a £10,000 donation from her bosses at Westway Veterinary Group in Newcastle, established her charity. She said she was extremely grateful to Westway for its support.
'Positive impact'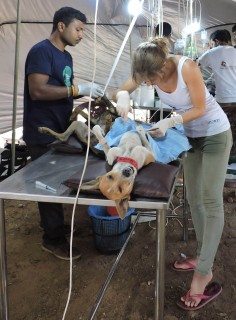 Mr Cameron said: "She has undoubtedly changed the fate of scores of vulnerable animals by protecting them from disease and providing much needed care.
"I am recognising Janey as a Point of Light, not only for the positive impact she's had through helping animals in need, but also for the countless people that will have been protected from rabies by her work."
In 2015 alone, Dr Lowes and her team of locally trained vets and UK volunteers:
neutered almost 900 dogs and cats
vaccinated more than 1,300 dogs, cats and monkeys against rabies
treated more than 400 sick and injured animals
On receiving the award, she said she was shocked, but also felt very honoured.
"I didn't think anyone would be taking notice of what we are doing – especially when it is outside of the UK – but it is great they are acknowledging international work as well," she said.
"Many tourists travel to less developed countries and say 'oh my goodness, look at those poor dogs, I wish I could do something to help' and I did the same.
"Then I thought, 'hang on, I can do something; I am in the fortunate position of being a qualified vet and can help'. I felt a bit responsible – we are lucky in many regards in the UK and should be helping those in less fortunate positions."
'Long way to go'
Sri Lanka is ranked as highrisk for rabies and Dr Lowes and her team work hard to eliminate the disease in animal and human populations. They neuter around 250 dogs per month – or every two months, depending on funding.
"Realistically, that is just touching the surface, so we have a long way to go," she said.
"We have worked hard with blood, sweat and tears, so it is lovely to receive recognition for that – thank you so much."
For more information about the charity, visit http://wecareworldwide.org.uk