Vets, vet nurses and support staff from Goddard Veterinary Group ride from Northolt to Exmouth (on April 13) to raise money for Hounds for Heroes.
A charity bike ride by staff from the Goddard Veterinary Group has raised more than £2,500 for Hounds for Heroes.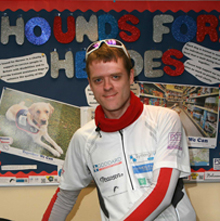 Hounds for Heroes provides specially trained assistance dogs to injured and disabled men and women from the emergency services. To help the cause, a team of 20 vets, vet nurses and other staff rode from Northolt in north-west London to Exmouth.
The 167-mile ride was completed on Saturday, April 13 with the team leaving Northolt at 6:30am before arriving in Exmouth at 7:30pm. Two pelotons took turns to complete 10-mile stretches of the ride, battling strong winds and rain for the final 100 miles.
Stan Livy, a former Commonwealth Games rower and vet at the Goddard Group's Eastcote branch, battled on against the bad weather and completed 154 miles of the route himself, while Jeremy Stewart, head vet at the Mandeville Veterinary Hospital, completed 146 miles.
Practice manager Adrian Hayter said: "It was a fantastic experience although, as the weather took a turn for the worse, the last leg was hard going. Once we finally made it to Exmouth and warmed up, we headed straight to the local Chinese restaurant and celebrated our achievement.
"The following morning, some of the braver members of the team got up early and went for a dip in the sea before we headed back to London. We're delighted to have raised so much money for such a worthy charity."
The team's sponsorship page is still open at http://www.justgiving.com/GVG-Synergyvets
You can also text your sponsorship by texting GVSY80 to 70070 with your donation.