The RCVS Charitable Trust Library is set to celebrate National Libraries Day (February 4) with an open day and prize draws for library users, including extended memberships and vouchers for library services.
The Royal College of Veterinary Surgeons (RCVS) Charitable Trust Library will mark National Libraries Day (February 4) with an open day and prize draws for library users.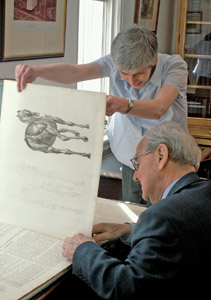 The library is inviting all vets and veterinary nurses (as well as librarians, staff and students from veterinary schools, other Royal Colleges and university medical schools) to an open day on February 3.
The RCVS Charitable Trust Library offers its members online access to the Veterinary Science Database, the world's largest bibliographic database on veterinary medicine, and a wide range of full-text electronic journals. It holds more than 25,000 books, conference proceedings and reports, specialising in veterinary medicine and science. It also has a historical collection of around 3,000 books that trace the development of veterinary art and science from 1514 to the present day.
Throughout the open day, trust librarians will run free workshops on how to use and search the bibliographic databases, and those visiting can sign up for a free three-day trial membership.
On National Libraries Day, all library members will be automatically entered into a draw to win a 12-month extension to their library membership.
Further, anyone using the trust's library services between January 30 and February 10 will be entered into a draw for a chance to win a £50 voucher for trust library services.
Trust librarian Clare Boulton said: "We have an extensive collection of books and online resources useful to vets and VNs, and income from library members and users helps us to ensure its continuing stewardship. So we're inviting all our users to an open day and holding two prize draws as a way of saying 'thank you'."
The open day will run from 10.30-4pm on Friday, February 3. Literature search workshops can be booked by contacting Clare Boulton (c.boulton@rcvstrust.org.uk or 020 7202 0752).