Mark Vaudin due to take over from Peter Webbon as chief executive of the Animal Health Trust in September.
Mark Vaudin has been announced as the new chief executive officer of the Animal Health Trust.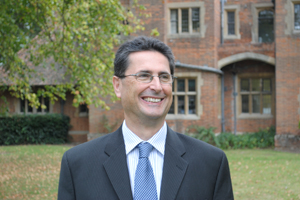 Dr Vaudin is deputy chief executive and head of research at the charity and will take the reins from current chief executive Peter Webbon at the end of September 2013.
Dr Vaudin, said: "I have been a part of the AHT team for nine years and am delighted to be taking on the leadership of an organisation that I know makes such a difference to the health and welfare of companion animals.
"I am, like everyone at the AHT, committed to fighting disease and injury in animals, which as a charity is what we exist to do.
"It has been a pleasure working with Peter Webbon and under my leadership, I'm determined we will continue to make significant scientific and clinical advances that will have a major impact on the lives of all companion animals and their owners.
"Of course, nothing of what the AHT achieves would be possible without the fantastic help of the public. I hope all our supporters will share in my vision for the AHT and continue to give us their invaluable support in our continued fight against disease and injury."
Dr Webbon added: "Leading an organisation like the Animal Health Trust, which has such a passionate team of staff and delivers so much for animals across the world, has been both demanding and incredibly satisfying.
"I am grateful for the commitment, loyalty and hard work of all the staff at the AHT, and extend grateful thanks to all of our supporters who make what we do possible. I wish Mark, and everyone at the AHT, all the best for the future."
An experienced genome scientist and geneticist, whose expertise is recognised internationally, Dr Vaudin completed his PhD researching aspects of the human genome, under Nobel Laureate Professor Sydney Brenner in Cambridge.
Dr Vaudin has held key positions in both academic and commercial sectors and takes up his new post on September 30, 2013.