Pup Aid 2011, the Brighton based mini-festival and "doggy social event of the year", saw TV vet Marc Abraham joined by a host of celebrities to raise public awareness of the UK's cruel puppy farming industry.
Last month (September 18) saw the return of Pup Aid, Brighton's mini-festival and "doggy social event of the year" that attracts both dogs and anyone who loves or owns one.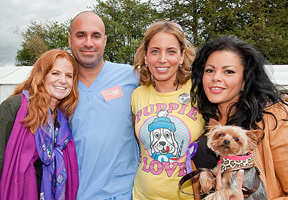 Organised by TV vet Marc Abraham and his team of volunteers, Pup Aid 2011 was hailed a great success, raising £2,000 for charity and raising public awareness of the UK's cruel puppy farming industry.
This event, set in the beautiful gardens of Stanmer House, was officially opened by Brighton & Hove's mayor Anne Meadows.
Forming the first half of this special day was the celebrity-judged dog show. Famous faces judging the fun doggy classes included stars from Eastenders, Monty Python, Harry Potter, The Apprentice, Emmerdale and The Bill. As well as the Scruffts heats for crossbreds there was Most Stylish Pooch judged by designer Meg Mathews and Best Dancing Dog chosen by last year's winner of Dancing on Ice, Hayley Tamaddon.
Fittingly the winner of the Sweetest Chocolate Labrador class, judged by cult TV chocolatiers Choccywoccydoodah, were four rescued puppy farm bitches currently being rehabilitated by campaign group Be Puppy Farm Aware.

Pup Aid aims to raise much needed public awareness to highlight the cruelty of the UK's puppy farming industry, i.e. the battery farming of dogs purely for profit.

Unscrupulous "breeders" keep thousands of breeding bitches in dark and harsh conditions to be endlessly mated, and mass produce an unlimited amount of puppies sold via pet shops, dealers and free newspaper adverts to unsuspecting new owners, unaware that these tiny new family additions are probably diseased, unsocialised and possibly even dangerous.
Other attractions included the Hearing Dogs display team, food and exhibitor stalls, stilt walkers as well as have-a-go agility, but most poignantly the unforgettable parade of the rescued ex-breeding bitches – beautiful dogs saved from a horrific, abusive existence on puppy farms – which formed the emotional centrepiece to the whole day.
Marc said: "I'm thrilled with yet another successful Pup Aid event – even more awareness raised means more people will either choose a rescue dog or contact the Kennel Club for details of a responsible breeder and not buy from pet shops, dealers or online."
He added: "Pup Aid is all about public education and I urge everyone to consider holding puppy farming awareness events to help curb the demand for these pups."
Gifts generously donated by local businesses and celebrity friends were raffled and raised a total of  £2,000, which will be split equally between local rescue centre Dogs Trust Shoreham, as well as Kennel Club Charitable Trust, The Mayhew Animal Home and Oldies Club, which rescues and rehomes older unwanted dogs.
For more info about Pup Aid, advice on getting a healthy dog, and updates on next year's event visit: http://www.pupaid.org or follow @pupaid on Twitter.