UK chief veterinary officer Nigel Gibbens has been made a CBE in the New Year's Honours for services to the veterinary profession and animal welfare.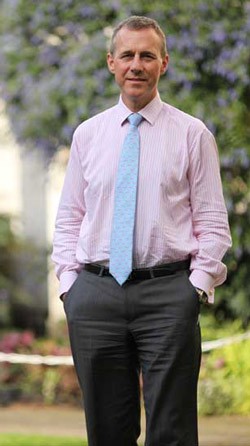 Dr Gibbens was appointed in May 2008 following previous experience in the state veterinary service and in policy roles on international trade, BSE controls, animal welfare and international relations coordination for Defra's Food and Farming Group.
Before joining the Government in 1990, he worked in private practice and in government veterinary services in Belize and Yemen.
Protecting the UK
Dr Gibbens is head of profession for all veterinary surgeons in the Government's employment and, as such, is responsible for protecting the country from animal disease and ensuring high animal welfare standards.
Speaking about the honour, Dr Gibbens said: "I have enjoyed a varied career in Government and I am honoured to receive this award.
"While I am personally very pleased, I feel it also recognises the importance and value of the work done by vets working across Government in a wide variety of challenging roles to protect animal welfare, and animal and public health."
'Particularly gratifying'
BVA president Sean Wensley said: "BVA is delighted to see veterinary surgeons recognised in the New Year's Honours list and it is particularly gratifying to see Nigel recognised for the critical role he has played at the heart of Government, advising on issues crucial to animal health and welfare as well as public health.
"It is typical of Nigel that, in accepting this honour, he pointed to the work of his veterinary colleagues across Government. The work of all vets in Government is indispensable in protecting and promoting animal health and welfare and vital for public health, and BVA hopes to see the role of vets across government strengthened.
"BVA and vets throughout the UK have benefited from Nigel's calm and knowledgeable advice and support. Nigel has been, and will remain, a critical friend to BVA and we are proud to count him as a member."
RCVS president Bradley Viner also offered his congratulations, and said: "As CVO, Nigel has made great strides in shaping and influencing animal health and welfare policy throughout the United Kingdom and strengthening the relationship between the Department for Environment, Food and Rural Affairs, the college and the profession at large."