More than 2,000 vets have signed up for the Pledge Against Cat Pain initiative since its launch in February.
Cat charity International Cat Care (ICC) has announced more than 2,000 vets have signed up for its campaign to reduce the number of cats suffering with chronic pain.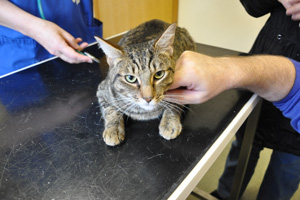 The Pledge Against Cat Pain initiative – launched in February (2013) and supported by ICC and Boehringer Ingelheim – aims to treat the condition after it was found that while up to 500,000 UK domestic cats could be suffering with chronic pain, only 6 per cent are estimated to be receiving treatment.
According to the ICC, 2,125 vets have agreed to identify and treat cats suffering with chronic pain as part of the pledge. This means, says the charity, if every vet that has pledged identifies and treats just five cats with chronic pain, it will have achieved its goal of making "a meaningful difference" to the lives of 10,000 cats.
Claire Bessant, chief executive of ICC, said: "The pledge provides a useful platform for vets to discuss the management of chronic pain with owners, offering information and useful tools. The campaign has got off to a fantastic start but we must not forget that there are still tens of thousands of undiagnosed cats still suffering in this country.
"To those who haven't pledged, please join the 2,000 other vets and see if we can add to the number of cats living happy and pain-free lives."
As part of the campaign, Boehringer Ingelheim is donating £5 to ICC for every pledge card submitted, which will fund an international feline welfare project.
To sign up or for more information, visit the pledge's website.