Pet owners that let their cats and dogs sleep in their beds are putting themselves at risk of serious illnesses, including MRSA, meningitis and even plague, warn the authors of a new US study.
Allowing your pets to sleep in your bed can put you at risk of contracting serious diseases or even kill you, according to authors of a new US study.
The stark warning comes from an article in next month's edition of Emerging Infectious Diseases by zoonoses experts Bruno Chomel, from the UC Davis School of Veterinary Medicine, and Ben Sun, chief vet for the California Department of Public Health.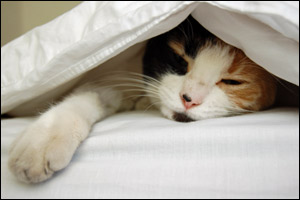 The authors claims that, simply by sharing a bed with their furry friends or letting their pets "kiss" them, owners put themselves at risk of contracting serious illnesses such as cat scrach disease, meningitis, MRSA and even plague.
According to the study, 56% of dog owners admit to letting their dog sleep next to them.
However, the study shows that disease from cats is more prevalent (possibly due to the fact that the number of cat owners sharing a bed with their pet is even higher) and, in some cases, far more serious.
Cases referenced by the study include:
A 9-year-old Arizona boy who contracted plague from his flea-infested cat ;
A 48-year-old man and his wife who repeatedly contracted MRSA from their dog, which "routinely slept in their bed and frequently licked their face" ;
A Japanese woman who contacted meningitis after kissing her pet's face ; and
A woman who died of septic shock and renal failure after her cat licked open sores on her feet and toes.
Speaking to Aol News, Dr Chomel said that he and Dr Sun wanted to raise awareness of the issue, particularly as the habit of sleeping with a pet on the bed had become quite a common occurence.
He said: "There are risks associated with it, even if it is not very frequent. But when it occurs, especially in children or immunocompromised people, it can be very severe."
For the entire Aol article, including details of how to reduce the threat of disease, visit Aol News.
The full study will be published in the February edition of the Centers for Disease Control and Prevention's (CDC) journal Emerging Infectious Diseases.