Norbrook Laboratories has launched a steroid-based antibiotic preparation indicated for the treatment of surface pyoderma in dogs, including acute moist dermatitis and intertrigo.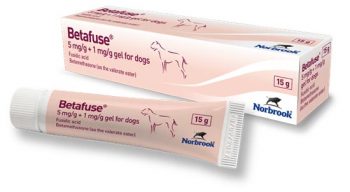 Betafuse Gel contains 5mg/g fusidic acid and 1mg/g betamethasone gel. It is available in 15g and 30g, with a unique polyfoil tube designed, said the firm, to reduce the likelihood of splitting and loss of product during use.
Extended shelf life
Betafuse is said to have an extended eight-week "in use" shelf life, in comparison to six weeks for the pharmaceutically equivalent pioneer.
UK product manager Lizzie Barnard for Norbrook, said: "Betafuse offers the prescribing veterinary surgeon greater choice and it complements our existing companion animal skin care portfolio.
Support material
"Product support material is available and includes a guide for dog owners on how to apply Betafuse simply and effectively.
"This leaflet is available by contacting your territory manager or by downloading it from our website."