The XLVets group of small animal practices is to offer skin check clinics as part of a new dermatology initiative.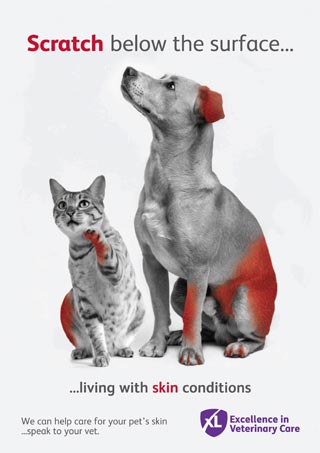 According to the group of independently run practices, the "Scratch below the surface" campaign aims to:
help owners identify and manage skin conditions
increase compliance by developing client understanding of the long-term diagnosis and treatment involved
The campaign will run from May to August, said XLVets, as summer can be a particularly bad time for sensitive pets, with pollens and other allergens at their highest.
Owner recognition
Veterinary dermatologist Paul Sands from Scarsdale Veterinary Group said: "The initiative aims to help pet owners recognise the signs of skin conditions in their pets and encourage them to talk to their vet about preventive measures to carry out at home, such as flea and tick control.
"They will also receive support from their veterinary team in planning long-term management strategies for pets with ongoing skin conditions."
Participating practices will be completing a questionnaire about the types of dermatology conditions seen, as well as geographical variances and common and unusual cases, and will be producing case studies, blogs and articles from it.