Vets are having to hone new skills as it was revealed the camelid population is increasing rapidly in the UK.
According to DEFRA figures, there are approximately 20,000 alpacas and 2,000 llamas in the UK. In 2006, there were 13,000 alpacas, while a University of Bristol survey 10 years ago estimated there were just 10,000 camelids in the country.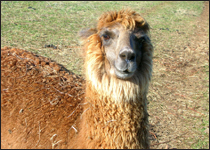 Four other camelid species – guanacos, vicunas, dromedaries and Bactrian camels – are also present in the UK, but in lower numbers than llamas and alpacas.
DEFRA's Bovine TB Eradication Group for England focused on camelids at its last meeting. Among the issues discussed was the risk of bovine TB (bTB) to alpacas, as well as the risk to cattle herds of camelids with bTB.
Although camelids are susceptible to bTB and often share fields with different animals, they are not routinely tested for the disease. Animal Health, however, may intervene in response to suspected outbreaks.
Peter Jinman, of Jinman and Partners, Hereford, found he needed to familiarise himself with camelid medicine after adding llamas to his patient list. He was also chairman of DEFRA's TB Advisory group between 2006 and this year. He said: "If you raise the number of animals that are more susceptible, they then act as a reservoir that can potentially introduce, prolong or exacerbate disease in a broader context.
"An interesting example is coccidiosis caused by Eimeria macusaniensis. It has probably been introduced by camelids. It was new to me when it turned up with one of the llamas we were treating. We started researching it in American and Spanish textbooks to find out if it's significant – and at what level it is significant."
For more on this story, read Veterinary Times issue 39.35, due to mail this week.