Twelve daring vets and vet nurses have posed in true style for a 2010 fund-raising calendar, in an attempt to raise more than £100,000 for animal rescuecharity, Animals Asia Foundation (AAF).

Available now from www.calendarvets.co.uk, the calendar is the brain child of "Miss February" Gillian Williams, who received personal backing from Steve Ashcroft and Julie Stock at UK AAF supporters group, Lancashire Animals Asia.
True to their profession, the girls from the Rufford Veterinary Group in Lancashire chose to snuggle up to pets in the saucy (but tasteful) calendar featuring their favourite horses, dogs, rabbits, cats and a goshawk called Mordecai – along with 12 rescued moon bears.
The campaign is a very personal story for Miss Williams, who first came across the plight of the moon bears at the BVNA's annual congress in 2006. In China, the beautiful, endangered Asiatic black bears are cruelly farmed for bile used in traditional Chinese medicine, spending years in horrendous conditions and cramped crush cages.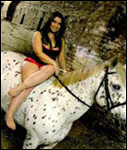 Miss Williams (left) said: "The tears streamed down my cheeks as I read about the tortured and barbaric way these majestic animals live their lives every day. I was captivated by the moon bears' faces straightaway and knew I had to help in any way I could."
Gill's self-funded three month trip to the Chengdu Moon Bear Rescue Centre in China in 2007 made her even more determined to help the animal rescue charity, Animals Asia Foundation, who have rescued and re-housed over 260 moon bears at their Chengdu sanctuary since 2000.
Miss Williams and her Calendar Vet companions hope to raise over £100,000 for AAF with the Help The Moon Bears calendar.
She said: "I've seen how well run AAF is and thanks to the personal backing of Steve and Julie at Lancashire Animals Asia, every penny raised will help those beautiful moon bears and help AAF to put a stop to bile farming in China.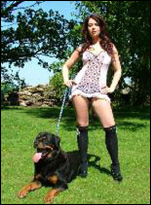 "The calendars are great Christmas presents for every animal lover and I hope the whole vet community and its suppliers will get behind us too. All the Calendar Vet girls have been brilliant, brave and worked so hard. Please help us stop the suffering of these wonderful animals and give them their lives back."
Jill Robinson MBE, CEO and founder of AAF, is said to have been "bowled over" by the Calendar Vets' support. She said: "It takes some courage to show a little extra flesh – but the brave vet nurses from the Rufford Vet Practice have left their blushes behind by posing elegantly and tastefully together with their beloved best friends. Animals Asia and the bears they are helping thousands of miles away in China and Vietnam send a huge and heartfelt thank you to them all."
Animals Asia is the chosen charity of the British Veterinary Nursing Association in 2010, bringing Gillian Williams first sighting of the moon bears full circle.