Sessions hosted by the British Veterinary Association at Olympia will include contentious issues, equine and farm animal CPD streams and the popular BVA Careers Fair.
The British Veterinary Association (BVA) will be hosting a number of sessions at the London Vet Show, which takes place at Olympia exhibition and conference centre in West Kensington from November 21-22.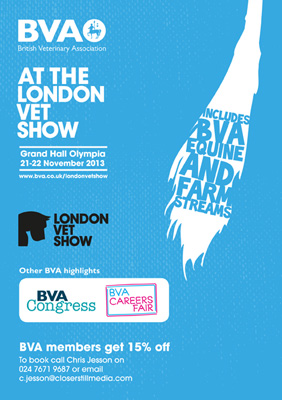 Highlights will include a series of BVA Congress debates on contentious issues, such as:
managing client behaviour
new vet schools
possible regulation of pet owners
assuring the welfare of food animals
The BVA will also offer equine and farm animal CPD streams and the popular BVA Careers Fair will provide advice for members at all stages of their careers.
 
New BVA president Robin Hargreaves will give an opening address at 8:40am on the first day of the show (November 21), outlining some of the key issues facing the profession.
Mr Hargreaves said: "We're excited to be joining forces with London Vet Show this year to provide high-quality CPD and sessions of interest to all of our members. We're looking forward to seeing lots of new faces and to hearing people's opinions on the issues that really matter to the profession."
 
This is the first year the BVA has held its congress at the show, and the association's members get access to everything for 15% less than the lowest advertised price.
 
For more information on BVA at LVS, including the full agenda and online registration, visit the BVA website.
To book, members need to provide their membership number and quote offer code "BVA11".