BVA president Harvey Locke has called on the Government to take action on veterinary student fees and the welfare of dogs and to respond to the DEFRA consultation on dangerous dogs.
BVA president Harvey Locke has urged the Government to take action on veterinary student fees and the welfare of dogs and to respond to the consultation on dangerous dogs.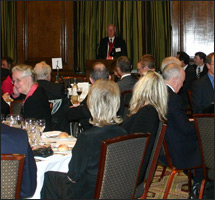 Presenting the BVA president's annual London dinner speech last night (February 8), Mr Locke addressed guests including Secretary of State for DEFRA Caroline Spelman MP, as well as parliamentarians, veterinary surgeons, and representatives from the agri-food industry, pet industry, welfare charities, research and veterinary education.
Mr Locke began by raising concerns over cuts to animal health and welfare and disease surveillance budgets, claiming the profession was deeply concerned that such cutbacks could have catastrophic consequences.
He said: "We understand the immense downward pressure being exerted on departmental budgets and competing priorities, but we would also caution against the unintended consequences of cuts that will have to be paid for in the future."
On veterinary student fees, Mr Locke outlined the "double whammy" of a long course and compulsory extra mural studies in the holidays. He said: "Our role as the guardians of animal health and welfare faces an uncertain future following the announcement that the cap on tuition fees will be raised to between £6,000 and £9,000 a year.
Mr Locke warned the change could fewer A-level students opting for an expensive veterinary science degree, particularly if veterinary degrees are "priced at the top of the scale", which would see veterinary students of the future graduating with a minimum £45,000 of debt in tuition fees alone.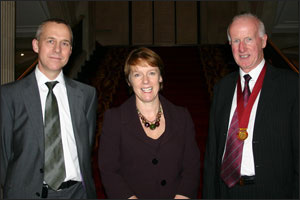 "Faced with these levels of debt, our concern is that those who do make it to graduation won't opt for the food animal practice and public health roles that attract smaller pay packages. We need to think carefully about how we can secure the future provision of large animal practitioners," he said.
On dangerous dogs, Mr Locke renewed the BVA's call for the Government to respond to the DEFRA consultation, which found 77% in favour of scrapping breed-specific legislation. He said: "Despite this overwhelming call from the public, the Government has kept its powder dry, repeatedly promising to announce its response soon.
"Secretary of State I would like to assure you that the BVA is prepared to work with all of the other organisations with an interest in dog welfare and public safety to find an effective solution."
Other subjects touched on by Mr Locke included the welfare of dogs, World Veterinary Year, the inaugural meeting of the Veterinary Development Council, disease surveillance and the ever-present threat of new and emerging exotic diseases.
The full text of BVA president Harvey Locke's speech can be downloaded below (PDF).