The BVA has revised its in order to help its members form lasting and profitablepartnerships and pre-empt disputes in veterinary practice.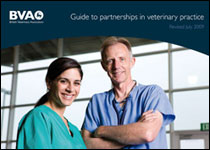 According to the association, the guide will be of particular interest to vets buying into a partnership for the first time and will also be helpful to partners revising their existing agreement.
According to the BVA, the lack of a formal agreement between veterinary practice partners could have detrimental consequences for everyone concerned. This guide therefore aims to draw attention to the areas which should be included as part of an agreement between partners to help reduce misunderstandings at a later date.
The guide, which BVA members can download the site from the association's website, includes sections on:
Decision making and authority
Profits and losses
Salaried partners
Good faith
Capital assets
Insurance
Tax and accounts
Dissolution
Outgoing partners undrawn profits and capital
Death
Power of attorney
Disputes and arbitration
…and more
Launching the guide, Andrew Parker, chair of the BVA Members Services Group, said: "I think this is an example of the hard work and commitment that the BVA is making to its members. It is a very good starting point with good advice for someone embarking on a major change in their working life."