Defra plans to provide farmers with more history about bTB risk to reduce spread of the disease and protect prices.
DEFRA has announced that British farmers will soon be able to find out about the bTB history of the cattle they're buying to help them avoid introducing the disease into their herd.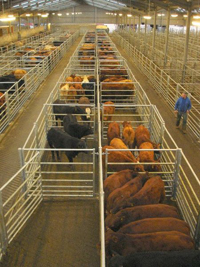 Under recommendations made by the industry-led Risk-Based Trading Group (RBTG) in England, important bTB risk information about cattle will be shared at the point of sale so farmers will know the animal's testing history before purchase.
Defra and industry will work together to develop buyer and seller guidance on bTB risk to help farmers make full use of this new information.
This will also help farmers in high-risk areas with herds that have been free of bTB for many years to achieve a fairer price for their animals at market.
The RBTG has also recommended developing a national database for farmers, vets and auctioneers that will use more detailed bTB risk information to help farmers assess the risk of cattle they are looking to buy.
Farming minister David Heath said: "Bovine TB is a terrible disease we have to get to grips with and I am determined we do everything we possibly can to prevent its spread. Risk-based trading based on an animal's TB risk will be a great step forward in empowering farmers to reduce the spread of this disease."
Bill Reilly, chairman of the TB RBTG, added: "We believe the recommendations contained in our report are practical solutions that will be of real value to help reduce the spread of this terrible disease.  We encourage industry and Government to work together to implement our recommendations."
The RBTG was set up by Defra in July 2012 to make recommendations to Government on helping farmers in England make informed decisions on the TB risk of cattle they want to buy.