BSAVA has announced the launch of its Small Animal Formulary smartphone app, containing more than 450 drug monographs and information on the medications that vets most commonly prescribe.
BSAVA is pleased to announce the launch of its third smartphone App – the BSAVA Small Animal Formulary app.

This exclusive member-only access app is available to download now from iTunes and Android Market and offers the same essential reference materials found in the latest 7th edition printed version.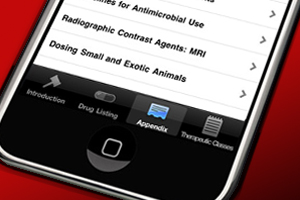 The app contains more than 450 drug monographs and a wealth of additional information, allowing easy and rapid access to vital information about those medications that veterinary surgeons most commonly prescribe.
It is hoped that the convenience of having the BSAVA Small Animal Formulary on a smartphone will mean that vets in practice will always have this valuable reference tool within easy reach.
Key features:
Exclusive to BSAVA members;
Notification of updates;
Search by A-Z list, keyword or by therapeutic classification;
All the additional material from the printed edition, including emergency doses for dogs and cats and a section on the safe handling of chemotherapy drugs.
Once the App is installed it will ask for a validation code that can be obtained from the Smartphone app validation code page within My BSAVA pages at www.bsava.com. All future BSAVA member-only smartphone apps will be validated using the same process.
BSAVA IT manager Emma Hayes said: "BSAVA is continually aiming to provide a range of valuable member benefits in a variety of formats so they can be used in the most efficient and effective way by our members. The BSAVA Formulary was a natural candidate for release as a mobile application, following the successful launch as an online searchable database at Congress in April.
"By developing this application it has also provided us with a platform that will enable us to produce additional useful applications in the future that can provide unrestricted content for our members."