A new policy statement from the BSAVA highlights the most effective treatments for canine firework phobia, offering veterinary guidance and focusing on evidence-based approaches.
The statement includes information on behavioural management, medications and pheromones.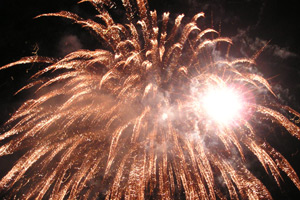 The document, available from the BSAVA website, states: "It is recognised that dogs may show signs of fear or phobia of the loud noises associated with fireworks. It is the duty of veterinary surgeons to recommend and support evidence-based therapies in order that they may improve the welfare of animals under their care.
"Management of phobias is not enough; as with any other chronic, degenerative condition it is essential that phobias be treated."
However, the document seems to dismiss herbal and homeopathic treatments, stating: "Noise phobias are serious conditions that have a great impact on the welfare of animals. If managed incorrectly, they tend to be progressive and can become so severe as to warrant the euthanasia of some animals. Given that an evidence-base exists for conventional drugs and behavioural therapies, a clinician should not prescribe an unproven alternative that directly or indirectly results in the worsening of a behavioural problem."
The statement was produced by vets Sarah Heath of Behavioural Referrals in Chester and Jon Bowen, behaviour consultant at the RVC.
Mr Bowen said: "Veterinary medicine is becoming ever more evidence based, but behavioural medicine has appeared to lag behind because of a lack of peer reviewed studies that confirm the efficacy of specific treatments. In part this is because it is quite difficult to create double-blinded controlled trials for many behavioural treatments. However, it is also because behavioural medicine is littered with unproven or ineffective food supplements, homeopathic or herbal remedies and crank advice.
"It is very difficult for clinicians to challenge these approaches if they are unsure of what constitutes best practice. There is a need to establish evidence-based treatments for common behavioural conditions, so that clinicians can have confidence in the advice they offer. The BSAVA policy statement was intended to clarify the options available for the management and treatment of phobias, so that clinicians would be able to develop confidence in dealing with a common, progressive and potentially serious behavioural problem."