Small animal vet Robin Hargreaves takes over from Peter Jones at association's members day in Cardiff City Hall.
Small animal vet Robin Hargreaves became BVA president yesterday (September 26), replacing Peter Jones, at the association's annual members' day at Cardiff City Hall.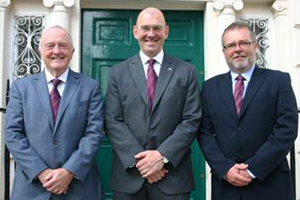 In his inaugural speech, Mr Hargreaves announced his theme for the year would be trust. He said: "I feel hugely proud and privileged to stand here at the beginning of my term – an office with such a proud tradition.
"I hope to bring my experience of developing trust among a diverse clientele in my day job as a practitioner to the relationships we have with colleagues, government, and other stakeholders.
"As a profession, we enjoy a tremendous degree of trust from the people we deal with. This is no accident. For generations veterinary surgeons have followed through on their promises and built up a legacy of faith in our profession.
"Meeting students and recent graduates this last year I have complete confidence in the future of our profession, but they will come under many pressures and we must always be there to provide support and guidance.
"If I am asked, why I feel so strongly about BVA, the answer is simple: if as a veterinary surgeon your integrity is questioned, if government here or in Europe is not taking notice of your experience and perspective in their legislative proposals, if forces beyond your control are affecting your legitimate right to exploit your skills to make a reasonable living, only two people care; your mother and your veterinary association. And your mother can't do anything about it."
Mr Hargreaves, a director of Stanley House Vets in Lancashire, was born and raised in the Yorkshire Dales. Mr Hargreaves joined the BVA while a student at the University of Liverpool veterinary school.
He qualified in 1985 and joined a two-vet mixed practice in Shropshire before moving on to a small animal practice in Leeds and finally settling in Colne.
He is a past president of the Lancashire Veterinary Association and a life member of the Veterinary Benevolent Fund (VBF). Within the BVA, Mr Hargreaves has been a facilitator for recent graduate meetings in the North West and has been a chairman of the BVA's Members' Services Group.