Organisers claim the 2013 BVA Congress, to be hosted at London Vet Show in November, will be the association's "most comprehensive annual event for many years".
The British Veterinary Association (BVA) has unveiled the full programme for its 2013 congress, which it claims will be its "most comprehensive annual event for many years".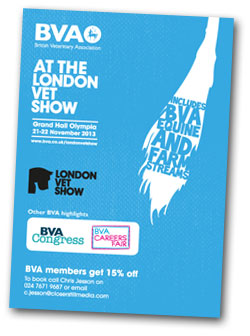 For the first time, BVA Congress will be hosted at London Vet Show (London Olympia, November 21-22). The event will be open to all vet show delegates to encourage everyone in the profession to listen to expert speakers and have their say on key issues affecting the veterinary profession.
As well as the new venue, the 2013 event will also see the addition of farm and equine clinical streams, as well as the popular contentious issues programme.
Devised by BVA's CPD Group, these new streams are aimed at mixed practitioners and recent graduates, and will cover subjects as diverse as camelid consults, geriatric farm medicine, equine referrals, farm animal parturition, responsible drug prescription, and more.
This year's Wooldridge Memorial Lecture will be delivered by BMJ editor-in-chief Fiona Godlee, who will consider the public understanding of science and the shared challenges, both scientific and clinical, faced by both doctors and vets.
The BVA Careers Fair will also return for a second year.
Reserved exclusively for BVA members, the fair will include sessions on starting your career, career options and taking the next step in your career, while one-to-one advice sessions on career and financial issues will also be available exclusively to BVA members.
If that's not enough, BVA members get access to the whole event – including the usual London Vet Show programme – for 15% less than the lowest advertised price. To book members need their membership number and to quote offer code "BVA11".