Staff at Battersea Dogs and Cats Home are more used to dealing with dogs and cats, so they were a little taken aback when a bunny bounded through the charity's doors.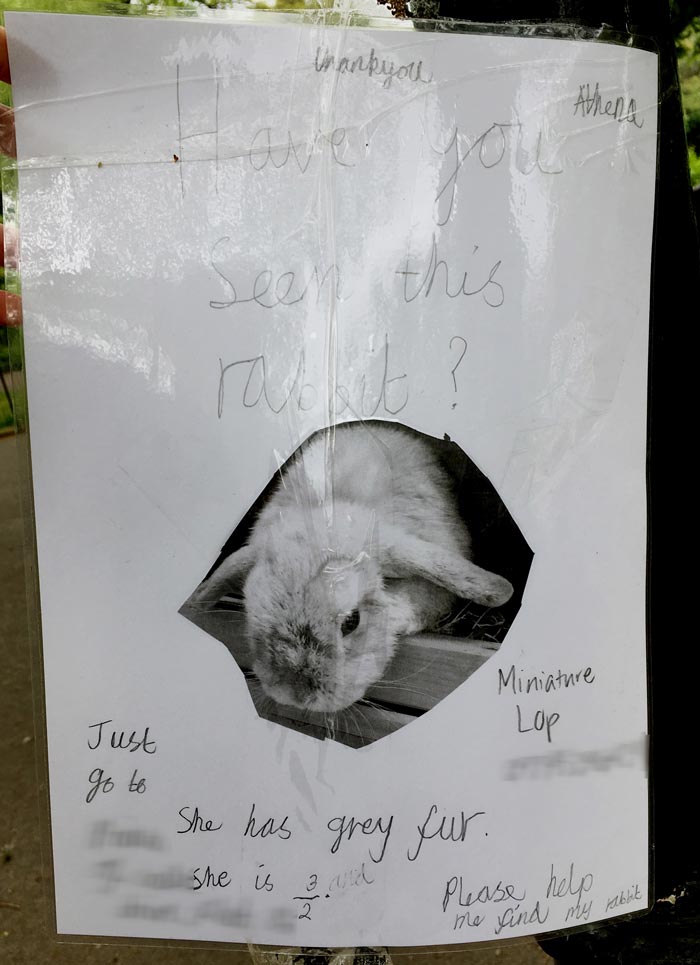 The mini lop rabbit arrived at the London headquarters after a member of the public found her on a roadside. Unsurprisingly, they did not have a hutch to hand, but staff member Amy Baird did and offered to give the rabbit a home.
Lost and found
A few days later another member of staff was walking through Battersea Park and spotted a poster, written in child's handwriting, saying "Have you seen this rabbit?" A telephone call and email exchange revealed the escapee belonged to seven-year-old Athena Lowes.
Athena's mum, Tanja Gullestrup-Lowes, said the rabbit – named Pearl – managed to find a hole in the fence and escape when they were cleaning her hutch. She said: "When Battersea called, Athena was so relieved and happy to hear Pearl was safe."
Pearl and Athena have been reunited and the hole sealed.
A happy ending
Battersea's centre manager Robert Young said: "So far this year we've helped to reunite 461 dogs, 307 cats and 1 rabbit with their owners. While I don't think we'll be changing our name to Battersea Dogs, Cats and Rabbits Home any time soon, it's lovely this tale had a happy ending.
"On a more serious note, if people do have animals other than dogs and cats they need to re-home, we'd ask them to take them to a specialist charity or a wildlife centre. Unfortunately, we don't have the facilities to keep them here at Battersea – and we might not always have a staff member with a spare hutch."