An entomologist from the Institute for Animal Health has beenawarded the first Rooker Prize for his research on the biting midgesthat spread bluetongue virus.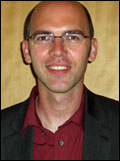 Simon Carpenter, head of the Entomology/Modelling Group within theVector-borne Diseases Programme at the IAH's Pirbright Laboratory,received his award during the VLA Conferenceheld at the Royal Holloway College, University of London (September2-4).
The Rooker prize is a newly established international annual prize for individuals who have made a significant contribution to livestock animal health by way of research. The winner is chosen by an international selection committee. The prize is named after Lord Rooker, a Life Peer in the House of Lords and a former minister of state for DEFRA (2006-2008).
Dr Carpenter, whose team predicted the spread of bluetongue into northern Europe, presented a lecture entitled "The antennae, shoot the antennae! The role of entomology during arboviral outbreaks". Arboviruses are viruses that are spread by arthropods, such as midges and ticks.
He said: "The 2007 incursion of bluetongue virus into the UK presented many unique problems. This award is a reflection of the professionalism and dedication of the people in the vector-borne disease programme at IAH as a whole."
"As an entomologist, it is a rare honour to receive such an award, and is a reflection of the multidisciplinary nature of science being used within IAH to combat such incursions."
"Through the activities of my research group and the vector-borne disease programme at IAH as a whole, I aspire to maintain the UK's current position as world leaders in this field, established by my predecessors, and to continue to communicate my science effectively with policy makers and stakeholders at both an EU and UK level."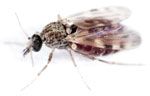 Much of Dr Carpenter's research has been on the Culicoides biting midges that act as carriers (vectors) of bluetongue virus, transmitting it amongst ruminants. He co-ordinated field investigations of the various Culicoides midge species within several European countries as well as the UK.
Together with estimations of bluetongue virus replication temperature limits (bluetongue virus replication in midges ceases below 12-15°C, and speeds up as the environmental temperature increases), Dr Carpenter and colleagues used the field data to establish 'vector-free' and 'transmission free periods' for bluetongue virus during the UK winter of 2007/8, following the first incursion of the virus into Britain in August 2007. This facilitated a relaxation of animal movements and saved UK farming stakeholders millions of pounds in trade.
Earlier IAH studies had revealed that in southern Europe bluetongue virus was being spread not solely by Culicoides imicola – the species of midge that had brought the virus from Africa – but also by Culicoides midge species that were native to Europe.
Experiments within the IAH showed that bluetongue virus could grow well in Culicoides midges found in northern Europe. Together this information led Dr Carpenter and colleagues to predict that bluetongue would one day to spread to northern Europe. This is indeed what happened, in 2006. In the following year bluetongue virus-infected midges were blown across the North Sea, and subsequently infected ruminants in East Anglia.