Enough blood was collected to save the lives of up to 32 dogs at a PetBlood Bank UK (PBBuk) collection session at the University ofNottingham's veterinary school.
The blood collection session celebrated the launch of a brand new mobile unit, the first of its kind, donated by Royal Canin. The unit will allow PBBuk to tour the country's vet schools and reach more donors.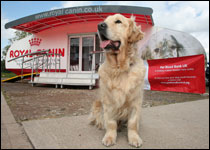 Taking place at the veterinary school last Wednesday, the blood collection session offered third-year university students an opportunity to learn about transfusion medicine and to practise their clinical skills on real-life subjects, as they performed the pre-donation checks and tests under the close supervision of PBBuk veterinary advisors.
Vanessa Ashall, PBBuk welfare officer and veterinary surgeon, said: "It is great for students to be able to see these animals. Transfusion medicine is a new science and I certainly wasn't taught about it as a veterinary student. Collaboration with veterinary schools is such a positive step, as we are able to educate the vets of the future on the benefits of transfusion medicine and blood typing, whilst giving them some real hands-on experience."
Giving blood does not hurt the dog and an anaesthetic cream is used, plus lots of love and attention to make sure your dog hardly notices what's going on.
Donors must meet certain criteria, including:
· Good temperament
· Aged between one and eight years old
· Weigh more than 25 kgs (55lbs)
· Not travelled abroad
· Up to date on all vaccinations
· Fit and healthy and not receiving medication, apart from preventive flea and wormer treatments
· Not had a previous blood transfusion
Veterinary practices wanting to encourage their clients to put dogs forward as donors, or that would like to support the work of PBBuk, can visit www.petbloodbankuk.org or telephone 01509 232 222 or 0844 800 9925 (5p/min).