One of the most high profile members of Britain's aviculture community has admitted toillegally keeping one of the UK's rarest wild birds at his Yorkshirehome.
Sean Fitzpatrick – a former chairman and an honorary life vice president of the National Council for Aviculture – admitted having 20 live red-backed shrikes and three stone chats at his home and was given a 16-week suspended prison sentence, a curfew between9pm and 6am and ordered to pay £750 in costs.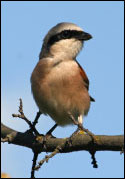 The 42-year-old had been criticised by District Judge Mr John Foster after he initially denied the charges, only to change his pleas to guilty on the second day of his trial when his defence argument collapsed. The district judge described Mr Fitzpatrick's actions as clandestine and underhand and said he made insufficient enquiries into the provenance of the birds, despite his knowledge and background.
Mr Fitzpatrick, from Rotherham, admitted a total of five charges, including two separate charges of selling four red-backed shrikes in November 2007 and three of possessing live wild birds between September 2007 and July last year, contrary to the Wildlife and Countryside Act 1981.
Mr Fitzpatrick changed his pleas to guilty after he was unable to prove the birds in his possession had been legally bred in captivity, and contradictory evidence was given in his defence.
RSPCA inspector Cliff Harrison said: "Quite apart from the fact these are rare and endangered birds it is very sad to see that nearly all of them perished in captivity. It is the suffering involved that really concerns the RSPCA, and that would be the same whether it involved a red-backed shrike or a sparrow.
"Once again the excuse used by the defendant is that the birds were bought in good faith, but our message has always been that the buyer can choose not to purchase. I hope this serves as a warning to everybody that they should ensure birds have been legally bred before buying."
Officers from the RSPCA, the National Wildlife Crime Unit and DEFRA visited Mr Fitzpatrick's home address on July 17 last year after information was received that he was in possession of red-backed shrikes. The information also suggested he had been involved in the sale of some of the rare birds.
A total of eight juvenile red-backed shrikes were examined, along with three stonechats. The birds were all fitted with British Bird Council (BBC) rings. However, the only paperwork supplied with them was declared as falsified by the Belgian authorities, which said the documents had actually been 'issued' by a ministry that ceased functioning in 2003.
Mr Fitzpatrick initially claimed he had purchased 12 red-backed shrikes from two unknown Belgian men, who spoke broken English, at a bird show in Stafford in 2007. He said he sold some for £70 and gave others to breeders as gifts.
However, his story was contradicted by an ex-pat living in France who initially stated that he had met Mr Fitzpatrick in Calais to hand over the shrikes then stated in court that he had handed them to Mr Fitzpatrick in Stafford.
Image ©iStockphoto.com/nimblewit