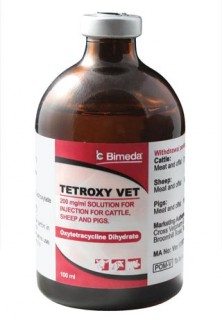 Bimeda UK has added a dairy production injection to its product portfolio.
Tetroxy Vet (200mg/ml oxytetracycline; POM-V) is indicated in the treatment and control of diseases caused by – or associated with – organisms sensitive to oxytetracycline in cattle, sheep
 and pigs.
Available in a 100ml size, it provides rapid initial blood levels of oxytetracycline, following a long-acting effect.
'High-quality pharmaceuticals'
Bimeda head of sales James Hutchings said: "The launch of Tetroxy Vet highlights our ongoing commitment to providing UK vets with a choice of high-quality veterinary pharmaceuticals at a fair price."
For further information, contact your local Bimeda territory manager or telephone Bimeda on 01248 725400.