A sheepdog that was nearly euthanised at two years oldafter suffering a serious hip dislocation has become a champion, thanks to veterinary treatment.
Bill put in a winning performance at the National Sheepdog Championships held in South Molton, Devon. He also captained the victorious English Sheepdog team at the International Sheepdog Championships in Cumbria.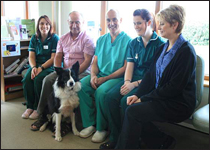 Bill, a five-year-old border collie, has been owned by farmer Eamonn Lawless from the Isle of Wight since he was eight weeks old. He proved to be an excellent sheepdog, but disaster struck in April 2006 while he was helping Eamonn move some ewes.
"Suddenly I noticed he was holding up one of his legs," said Mr Lawless. "He may have been butted by a ewe or possibly put his leg in a crack, which then caused the hip to dislocate as he moved at speed."
The injury was so severe that Bill might never have been able to work again, forcing Eamonn to consider euthanasia. However, because he was such a talented sheepdog and loved his work so much, he took the decision to have Bill operated on by Neil Phillips, orthopaedic surgeon at the Pet Doctors Veterinary Hospital in Newport.
"Because of the chronic nature of Bill's hip dislocation many of treatment techniques were not applicable," said Neil. "However, since he was of a lighter frame for his breed, I felt arthroplasty of his right hip might provide him with a pain free functional alternative."
After the operation, Eamonn worked hard with Bill to speed his recovery by encouraging him to use his injured leg again – and eventually to become a champion.
Neil Phillips added: "It's always pleasing to see your patients achieve such a successful outcome following such surgery. We wish Bill every success in future trials."