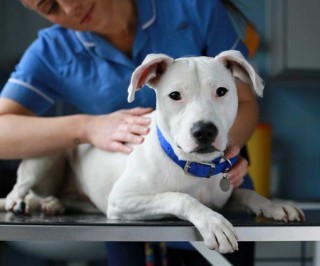 Battersea Dogs and Cats Home has claimed more family pets are coming through its gates because their owners cannot afford to pay vet bills.
In the first half of 2015, 74 dogs arrived at the charity with serious medical conditions needing immediate treatment and now the 156-year old institution is appealing for £2.4 million in donations to complete a new animal hospital.
No alternative
A statement issued by the charity said: "With owners finding it increasingly difficult to afford their pet's medical bills, they see no alternative other than bringing them to Battersea to be treated, then rehomed. Battersea aims to never turn away a dog or cat in need of help, but to be able to cope with the increase in medical cases, the home needs a new vet hospital to continue helping the dogs and cats in its care.
"However, with more and more animals requiring urgent time with its vets, the home's 18-year-old clinic is struggling. In 2014, Battersea's clinic carried out 4,719 operations, which is an average of 19 operations a day."
'Huge difference'
Head vet Shaun Opperman, who has been helping sick animals at the home for more than 20 years, said: "A new and improved vet hospital will make a huge difference to the level of care our clinic team are able to give.
"At the moment, we have a team of 35 vets and VNs working in a confined space and the new facilities will allow us to increase the procedures we perform and provide more care to our patients.
"Now, more than ever, we're seeing more complicated cases and neglected animals coming in, where people can't afford treatment."
The new hospital will have:
three operating theatres, allowing more than 100 procedures a week
a laboratory and x-ray suite to speed up diagnosis and treatment
a dental suite to free up space in the operating theatres
soundproof recovery wards to keep dogs and cats separate and calm, helping to speed up recovery
Further information on Battersea's vet hospital appeal, including details of how to make a donation, can be found at www.battersea.org.uk/vethospitalappeal