RZSS Edinburgh Zoo has revealed its latest attraction – a new enclosure for its 17 endangered Barbary macaques.
Ideally suited for the hardy primates, the macaques' new home features steep, rocky terrain for the monkeys to climb over and plenty of ropes throughout the enclosure to keep them stimulated and entertained.
Improved viewing experience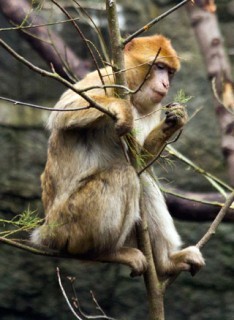 A visitor viewing platform will offer an improved experience, with increased levels of visibility and the chance to watch this active species in an enhanced environment.
RZSS Edinburgh Zoo animal collections manager Jo Elliott said the zoo is delighted with the new facility – as are the macaques.
She said: "They've been thoroughly enjoying their new spacious environment, as well as the sheer cliff faces and rocks that they've been climbing enthusiastically. Visitors are also more immersed in the macaques' environment thanks to a series of large viewing windows.
"We hope that the Barbary macaques, complete with their impressive new enclosure, will help raise awareness of how threatened the species is in the wild, as well as how important it is to conserve this species."
Barbary babies
The last baby Barbary macaque to be born at Edinburgh Zoo was in June 2014 and named Athan, which means big ears. In recent years, a total of 12 Barbary macaque babies have been born at the zoo and the species previously lived in the Monkey House at Edinburgh Zoo.
Listed as endangered on the IUCN Red List, the biggest threat facing this primate species is the loss of their natural habitat as a result of urbanisation and extensive logging of forests. Remaining wild populations are becoming increasingly fragmented and isolated since migration is no longer possible in many areas.