London Zoo's newest arrival, a two-week-old Colobus monkey called Anvil, has been meeting the public with proud mum Sophia. 
She might have a face only a mother could love, but London Zoo's newest arrival is already winning over visitors with her 'adorable' smile.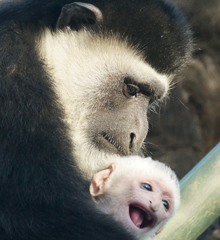 Standing out against mum Sophia's raven hair, two-week-old colobus monkey Anvil has a completely white coat which will eventually darken as she gets older.
While some may question the unusual name – it's the small bone in the inner ear – Anvil is following in the family tradition of Maxilla, Bones and Radius who were also named after parts of the skeleton.
Mum Sophia spends most of the day holding on tightly to her precious newborn, relinquishing cuddle duties only to Anvil's doting aunty Thumbelina.
Zookeeper Alison Parbles said: "Mum Sophia is very protective over tiny Anvil, who is only about eight inches tall, but she does let aunty Thumbelina have cuddles with her.
"Thumbelina takes great delight in showing Anvil off to the zoo visitors – who can't help cooing over the cute new arrival."
Visitors can see baby Anvil with mum and her family at ZSL London Zoo now. Book a visit to see the tiny new arrival this weekend at www.zsl.org