A cat suffering from asthma that couldn't be given systemic steroids has been prescribed its own modified human baby inhaler.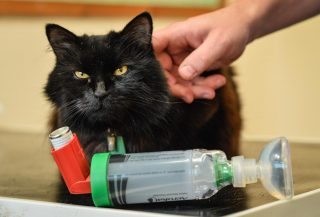 Vet Ian Hopkins, from Holly House Veterinary Surgery in Knutsford – part of the independently-owned Willows Veterinary Group – diagnosed Matilda with the condition earlier this year.
Suspicions confirmed
Dr Hopkins said: "If cats have a cough, asthma is a potential cause in many cases, but tests are needed to exclude other causes. Matilda has had x-rays, a bronchoscopy and a lung wash.
"The tests showed a marked to moderate eosinophilic cell population – eosinophils are the cells we would associate with allergy; that is, feline asthma." 
Steroid formulation
Dr Hopkins added: "Matilda was noted to first cough three years ago, becoming more noticeable in the past 12 months, requiring intermittent treatment.
"Steroids are often used, but these affect the whole body, can lead to weight gain and can predispose to diabetes, poor wound healing and reduced immunity to infectious diseases.
"The inhaler is ideal for Matilda as she can breathe in the steroid drug formulation and it can act on the lung tissue stopping the asthma reaction, yet it does not enter the bloodstream and affect the rest of the body, minimising side effects.
"Matilda is also on pain killers for OA, which systemic steroids cannot be given alongside. On inhaled medication, she can continue her painkillers without any drug interactions worrying her, her owners or me as a vet."
Local chemist
Matilda's owner – Kathryn Hoskins from Rudheath, Cheshire – said: "I did wonder how we were going to give her an inhaler, but it's exactly the same method as if you were giving an inhaler to a baby – through a chamber that goes over the nose and mouth.
"We even go to the local chemist to pick it up. It's quite funny to think our cat has her own human prescription at the pharmacy."
Feline asthma is estimated to affect up to 5% of cats.