The world's first feline artificial feet have been fitted in the UK.
The world's first feline artificial feet have been fitted in the UK.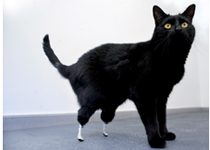 Surrey-based Noel Fitzpatrick applied the prostheses to two-year-old Oscar, whose life-threatening injuries are thought to have been caused by a combine harvester.
The new feet use custom-made implants to "peg" the ankle to the foot and mimic the way deer antler bone grows through skin.
The pegs – or ITAPs (intraosseous trans-cutaneous amputation prosthetics) – were first developed by a team from University College London's Centre for Bio-Medical Engineering, led by Gordon Blunn.
 
In a three-hour operation, Fitzpatrick Referrals staff inserted Oscar's ITAPs by drilling into the ankle bones in each hindlimb – a delicate task that could have fractured the ankle joint. The implants were attached to the bone at the amputation site and coated with hydroxyapatite to encourage bone cells to grow on to the metal.
 
The skin then grew over the special umbrella at the ITAP's end to form a resilient seal against infections.
 
The ITAP itself protruded through the bone and skin, allowing the custom-built artificial paws to be securely attached.
Dr Fitzpatrick said the patient had made remarkable recovery: "Oscar can now run and jump about as cats should do."
Oscar's owner's insurance policy paid £4,000 towards the surgery. The remaining costs were met by Dr Fitzpatrick, whose ultimate goal is to make the procedure financially achievable. He features in a six-part series, The Bionic Vet, broadcast on BBC One on Wednesdays at 10.45pm.