Researchers from the University ofLiverpool presented new researchat BEVA that questions the accuracy of conventional equinebody condition scoring for weight loss management in overweight ponies.
The study, supported by the World Horse Welfare, entitled "Managed weight loss in obese ponies: evaluating weight change, health and welfare", involved five mature, overweight or obese ponies and aimed to restrict their feed intake (on a dry matter basis) to one per cent of body weight of a chaff-based complete diet for 12 weeks.
During this time their weight change, health parameters and behaviour were monitored. All ponies remained healthy throughout the whole trial and an appropriate and safe rate of weight loss was achieved.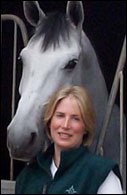 Clare Barfoot, registered nutritionist and the research and development manager for Spillers explained: "Body weight decreased at a steady rate. However, despite significant weight loss, the body condition scores of the ponies didn't change. This highlights the concern that body condition scoring may not be the most effective way to monitor early weight loss in ponies."
Even in this well managed study the feeding activity of the dieting ponies was decreased by 74 per cent compared to ad libitum intake, highlighting the need for a practical feeding system that is both effective at managing weight loss but is sensitive to behavioural needs.
The Waltham Equine Studies group was closely involved with this study as it has been with other ground breaking work on equine obesity, such as showing that an obese body condition score was associated with increased insulin resistance back in 2003, and developing the cresty neck scoring system.

In response to the study the research group is in the process of developing a new condition scoring system designed specifically for ponies.
Alex Dugdale, lead researcher at Liverpool University, said: "This will involve validating the relationship between actual measurements of body fatness and the external appearance of the pony."