Graham Dick, recently retired general manager of Bayer Animal Health, has been awarded honorary membership of the National Office of Animal Health for his service to the industry and the organisation.
An animal health stalwart has been awarded honorary membership of the National Office of Animal Health (NOAH) after 25 years in the industry.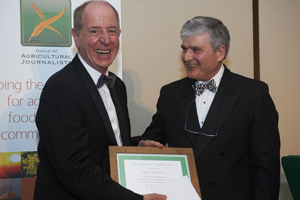 Graham Dick, formerly of Bayer Animal Health, was awarded his membership at NOAH's annual dinner, a glitzy affair at the Tower Hotel on London Bridge.
Mr Dick, who had retired as general manager of the animal health giant just two days before the dinner, spent 25 years at the company following time in veterinary practice.
Presenting the award, chief executive of NOAH Phil Sketchley said the organisation did not hand out honorary memberships lightly.
He said: "NOAH has, over the years, made awards of honorary membership of the association to show our appreciation and gratitude to members of our industry who have gone the extra mile in their contributions. Since NOAH was created, only 12 of these have been appointed for their contributions to NOAH and the animal health industry."
Praising Mr Dick, Mr Sketchley said he had been an "active member" of many NOAH committees, including the companion animal sub-committee, which he also chaired. He had also been a member of the education committee and the antibiotics task force. Mr Dick has been a NOAH board member since 2004 and held officer positions of vice-chairman, chairman, past-chairman and treasurer.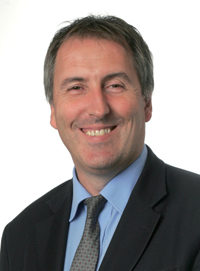 "NOAH is delighted to award [Mr Dick] honorary membership in appreciation of his considerable contributions to NOAH during his tenure," said Mr Sketchley.
Mr Dick joins other well-known faces of the animal health world in his honorary membership, including the likes of Sam Black, Mel Brewer, Peter Coe and BVA president Peter Jones.
On the same day of the dinner, UK managing director of Zoetis John Hanley was appointed as NOAH's chairman for 2013. Mr Hanley started his career as a microbiologist with Beechams before joining Solvay Duphar Veterinary in 1984, where he has stayed throughout acquisitions by Fort Dodge and Pfizer before leading the company through the transition to Zoetis.