The National Office of Animal Health (NOAH) has spelled out its position on the priorities for animal health to prospective European Parliamentary candidates.
In a manifesto sent to UK candidates ahead of next week's European elections, NOAH highlights its support for the "1-1-1 concept" which proposes the introduction of a single market for veterinary medicines in Europe. The organisation claims that removing licensing barriers between countries would greatly improve the development and availability of new animal medicines.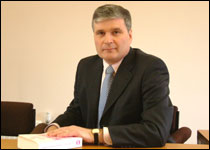 The document also points out the need for clear communication to consumers about the benefits of vaccination in food-producing animals. It then discusses the significance of companion animals and their care, before reiterating NOAH's support for the responsible use of medicines and proactive farm health planning.
NOAH's chief executive, Phil Sketchley, said: "It is important that parliamentarians are aware of these issues. Safe and effective medicines are essential for the health and welfare of livestock and pets, and in turn contribute to efficient food production and people's wellbeing.
"We hope that elected MEPs will work closely with the animal health industry and support the needs of those who work to ensure their animals' health and welfare."

noah_manifesto.doc[DOC]