The BVA's 2009 congress boasts a packedagenda and includes sessions highlighting the links between animalhealth and international development.
The pivotal veterinary event willbe held in Cardiff from September 24-26 under the theme Togetherforever?, looking at veterinary issues in the context of devolution.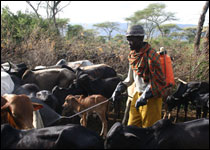 The BVA Overseas Groups programme (Friday 25, 9.30 to 12.00) will discuss ways in which the profession is seeking answers on how to provide access to veterinary services for some of the worlds poorest livestock keepers by the increasing use of participatory approaches and the ever evolving need for collaboration and multi-disciplined approaches to poverty reduction by knowledge sharing and capacity building. The first session will focus on support to the animal health profession overseas.
Dr S Abdul Rahman, secretary of the Commonwealth Veterinary Association (CVA), will describe how the CVA has advanced animal health, welfare and productivity and living standards, especially of rural women. He will highlight how climate change and emerging diseases constitute new challenges, while in the Pacific Islands a shortage of veterinarians is a special constraint.
Unlocking the potential of Africa's livestock keepers: a new approach to veterinary service delivery will be addressed by Christie Peacock (Farm Africa) who will look at the use of paraveterinary personnel in areas with low vet density.
In Working together to improve animal health, integration and cooperation of NGOs, Stephen Blakeway (the Donkey Sanctuary) will consider the spectrum of organisations involved in animal health and welfare aid and development.
Contrasting the view from within two case studies (one in Afghanistan, the other a Donkey Sanctuary project) he will promote the idea that all organisations need to cooperate, particularly in sharing best practice, if animal health and welfare services are really to improve around the world.
Karen Reed, chairman of the BVA Overseas Group, said: "Veterinarians are working around the globe on both small and large scale projects to promote sustainable animal health. Never before have the challenges that face livestock keepers been more pertinent climate change, political insecurity, trends towards withdrawal of state veterinary services, transboundary disease and natural disasters: all impinge not only on food production but also livelihood securities."
Photographs courtesy of Stephen Blakeway