Animal Ark Veterinary Centre in Essex welcomed a record turnout of 1,000 visitors and raised more than £2,000 for local animal charities at its 10th annual open day and Christmas party on December 4, 2011. 
A record turnout was present for Animal Ark Veterinary Centre's tenth annual Open Day and Christmas Party held on Sunday 4 December, 2011. 
The event saw local animal charity groups set up stalls at the practice in Goodmayes, Essex, while Animal Ark staff opened the doors to let people see what goes on behind the scenes in a veterinary practice.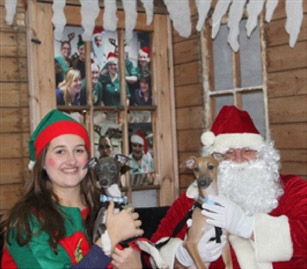 With a record turnout of more than 1,000 people in attendance, the event managed to raise more than £2,000 for various local animal charity groups.
Traditional festive frolics saw Santa spreading Christmas cheer to kids (and pets) in his Grotto, while crew and industry reps were on hand with informative and interactive displays, which included:
Floating blood globules,
Dental demonstrations,
Fascinating nutritional facts, and
Hydrotherapy demonstrations.
However, as voted by the public, the operating theatre featuring the "what's it feel like to put your hand inside a dog's stomach" experience won the award for "best room".
Many left with prizes under their arms from the various raffles, tombola, and competitions, including a flat screen television, a blu-ray disc player, an iPod, bottles of wine, chocolates, perfumes, books and more. 
Nathan Basha from Animal Ark said: "On behalf of our furry friends a big thank you for everyone's support. It was also Animal Ark's opportunity to say thank you to our clients for their support throughout the year and it was a joy to see everyone get stuck into the never ending supply of festive food and drink.
"A day like this takes a lot of effort and preparation and it would not have been the success it has been without the efforts of the crew and the fantastic support of numerous volunteers, including a special thank you to Santa for making his way down from the North Pole."