A 25-year-old aspiring vet has taken to the road to cycle more than 1,000km across Australia's south coast to raise both funds and awareness for the Worldwide Veterinary Service (WVS).
An Antipodean adventurer has taken off on the ride of his life as he attempts to cycle more than 1,000km across the south coast of Australia, raising both funds for the Worldwide Veterinary Service (WVS) and awareness of the importance of education in achieving aspirations.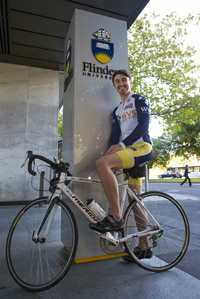 Andrew Dallimore, a 25-year-old, who was deemed a low-achieving student at school, decided to take on the challenge after he seriously injured his arm in a judo accident in early 2012. During his recovery, Andrew became aware of both the WVS and the efforts of the charity's founder and chief executive, Luke Gamble. It was watching Luke's Vet Adventures TV series at home in Adelaide that helped Andrew recover as well as inspiring him to continue his lifetime ambition to get accepted on to the veterinary medicine degree at the University of Melbourne, which he achieved in January (2013).
Andrew is accompanied on his trip by his cousin Zak while his girlfriend Jean drives a support car. On the way, Andrew is visiting six rural high schools to provide encouragement to students who may no longer enjoy education or don't believe in further education. Andrew also hopes his journey will raise AU$10,000 (£6,500) for the WVS as well as raising awareness of the charity's efforts and activities. Andrew has called his campaign The Gentle Way – the translation of the word judo – which he practised for more than 11 years before his accident.
Andrew set off on his ride from Flinders University in Adelaide – sponsors of his ride as well as where he achieved his Bachelor of Medical Science degree – on February 4, 2013. He hopes to complete the challenge in Melbourne by February 21, 2013.
Andrew said: "This campaign has been launched is to show young adults that no matter what they come up against, they can still go for their goals. Often, if students don't hear about it, then they won't try."
The WVS supports animal welfare charities across the globe by sending volunteer teams, veterinary drugs, equipment and advice.
 
Visit The Gentle Way's website to donate to Andrew or to read his blog. Donations can also be made at the WVS' website.