Following their introduction at 2012's edition, The Kennel Club has said that all 14 high profile breeds – including dogue de Bordeaux and Neapolitan mastiff – have passed their vet checks at 2013's Crufts.
The Kennel Club (KC) has announced all 14 high profile breeds passed vet checks at this year's Crufts, which ended yesterday (March 10, 2013).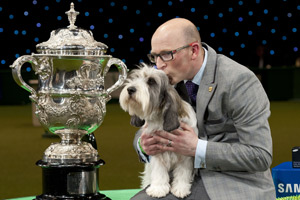 The breeds – which include dogue de Bordeaux, German shepherd, Neapolitan mastiff and St Bernard – must pass a check before competing in best in group and the resulting best in show competition. Within the checks – which have been in place at all KC general and group championship shows since 2012's Crufts – veterinary surgeons look for conditions related to externally visible eye disease, lameness, skin disorders and breathing difficulty, as these are the four main areas where clinical signs are commonly associated with extreme conformation.
In the year since the introduction of the checks – which have been the subject of debate – 330 out of 345 dogs have passed the checks.
KC secretary Caroline Kisko said: "We want to ensure only healthy dogs are rewarded in the show ring, and also use the show ring to help move those breeds forward that are the most inclined to suffer from health conditions that affect their health and welfare.
"We have been running the vet checks throughout the past year and we have been delighted with the results."
KC chairman Steve Dean said: "Through the vet checks we are challenging some views of the general health and well-being of 'show dogs' as opposed to the 'pets' that vets usually meet.
"The KC's dog health group is closely monitoring the scheme to see how best to take it forward and there will be changes as time goes on."
Meanwhile, the winner of best in show at this year's Crufts was Jilly, a three-year-old petit basset griffon Vendeen. Jilly, and her handler Gavin Robertson, from Oxfordshire, were awarded the prestigious trophy in front of thousands at the NEC in Birmingham.
Mr Robertson said: "We could only dream of this. Jilly is genuinely a once in a lifetime dog, she is full of character and an absolute pleasure, just such a great dog."
The reserve best in show title was won by Romeo, a Labrador retriever, owned by Franco Barberi from Cesara, Italy.