Sue Dyson and Ruth Dennis have both received awards at an international radiology conference for their outstanding contributions to veterinary diagnostics.
Two Animal Health Trust (AHT) veterinary scientists have received international awards.
Sue Dyson, head of clinical orthopaedics at the AHT, and the trust's head of diagnostic imaging and Ruth Dennis, were lauded at the International Veterinary Radiology Association (IVRA) held in Turkey.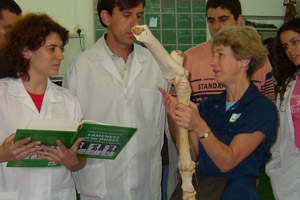 Dr Dyson was awarded the IVRA J Kevin Kealy Award, given to association members who make substantial scientific contributions to veterinary radiology.
Speaking after Dr Dyson's win was announced at the end of August 2012, IVRA past-president Peter Lord said: "It is hard to imagine that equine diagnostic imaging today would be the same without the contributions of Sue Dyson and her colleagues.
"She is an outstanding recipient of the J Kevin Kealy Award."
Mrs Dennis was named as the 2012 recipient of the European Association of Veterinary Diagnostic Imaging (EAVDI) Douglas and Williamson Award, established to recognise outstanding achievement within the field of veterinary diagnostic imaging.   
Commenting on the award she said: "I am very honoured to receive this award, especially since, as a vet student in Cambridge in the late 1970s, I was taught by Sidney Douglas and David Williamson, who were pioneers of veterinary radiology."