PetSavers has received a financial boost of £1,500 from Agria Pet Insurance to help fund a study into treatment for illness in companion pets.
The UK's leading veterinary charity, Petsavers is a division of the BSAVA and dedicated to improving the health of pets by relieving the distress and pain caused by diseases. The charity is funded entirely by donations.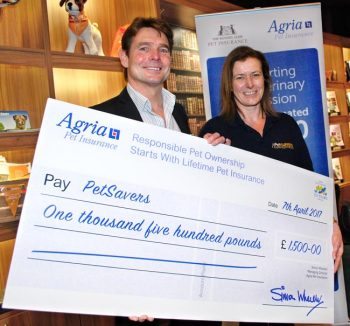 Student research grants are awarded annually by the charity to those undertaking study into specific illnesses. Current projects include:
erythropoietin in canine transmissible venereal tumour disease
developing novel biocompatible and antimicrobial coatings for orthopaedic implants in dogs
'Generous donation'
The results of PetSavers student research projects are published in the Journal of Small Animal Practice and passed on to the veterinary world for use in practice.
As the only charity that funds veterinary studies for companion animals, many pets visiting a vet will benefit directly from treatment identified in a PetSavers' study, the charity said.
PetSavers chairman Susan Macaldowie said: "Thanks to Agria's generous donation, PetSavers will be able to fund a student research project and support the charity's aim to raise awareness of its vital work.
"As a vet, I always recommend clients take out pet insurance; with this backing, should their pet need treatment, they can access the latest approaches and cutting-edge treatments without concern over cost."
'Life-changing'
Agria head of veterinary business, Janet Hughes, said: "We are delighted to support the advanced, life-changing studies funded by PetSavers, and it is a great honour to play a part in the critical work they do to help our companion animals."
Mrs Hughes and Agria managing director, Simon Wheeler, presented the cheque to PetSavers during BSAVA Congress.