Vets are being urged to advise dog owners holidaying in the UK to adopt a risk-based approach to parasite management, to protect pets and prevent disease spread.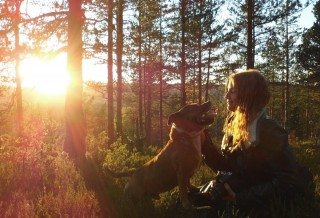 Ian Wright, UK head of the European Scientific Council Companion Animal Parasites UK and Ireland, said owners should be made aware tick-borne diseases could be present in high-risk areas of bracken, ruminant pasture and woodland virtually anywhere in the UK – not just in well-publicised "hot spots".
He said: "There are some well known areas where these diseases are present, but if you don't know the area in which you are travelling then dog owners in particular have to take a risk-based approach in terms of where the animal is going to be walking.
"If you know you're going to be walking through ruminant pasture, bracken or woodland, you are going to be at a risk of picking up ticks."
'Minimum precaution'
Dr Wright continued: "Although prevalence varies, Lyme disease is present across the country more or less everywhere in those high-risk areas, so if you don't know the area your pet is travelling in then it becomes a lifestyle, risk-based approach and judgement call.
"As a minimum precaution, I would say pets – particularly dogs – that go out in rural areas of pasture, bracken and woodland should be checked at least once a day for ticks and, if an owner finds any, they should be immediately removed with a tick hook.
"Whether you use a tick product as well is a risk-based decision, but it makes sense."
Dr Wright said known tick hot spots included popular holiday destinations, such as the Lake District, Scottish Highlands, North Yorkshire Moors and Quantocks.
Even non-rural areas, such as Harlow in Essex, have seen the UK's first cases of tick-borne babesiosis in five dogs with no history of foreign travel.
'Major concern'
He said: "Babesiosis is usually found in mainland Europe, but its presence in the UK is a major concern for animal health.
"Although it will be almost impossible to stop its spread, pet owners travelling across the country with their pets may help accelerate the spread of the parasite from the south, underlying the need for greater awareness of the need to protect our pets.
"As we've seen with the lungworm parasite, the ability for serious diseases to spread northwards to become endemic in the UK is a worrying possibility."
The BVA's advice, as published in its Animal Welfare Foundation literature, recommends pet owners discuss use of preventive treatment for parasites with their vet before travelling abroad.
It may also now be advisable to consider this before holidaying in the UK.