A professor from Nottingham Veterinary School has completed the John O'Groats to Land's End Walk in five weeks and three hours to raise money for Cancer Research UK.
Jon Huxley, an associate professor of farm animal production medicine, decided to undertake the walk in memory of his mum, Gill, who died from leukaemia.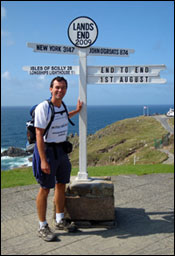 Professor Huxley completed the walk on August 1, having averaged 29 miles per day (six days per week) and raised over £8,000. In total he walked 913 miles, climbed 69,000 feet (twice the height of Everest) and took approximately 1.6 million steps.
He said: "I was fortunate that friends and family supported me on the walk and helped me maintain my sanity. I would like to thank all my veterinary and farming friends for their donations and assistance along the way, I am particularly grateful to XLvets for their generous financial support.
"Mum was always a keen walker and had us doing huge walks in and around North Wales when we were children. She retained her love of walking all her life and was out walking her dog Daisy almost to the end. I decided that walking from John O'Groats to Land's End would be a fitting memorial to her.
"Mum died from Myelodysplastic Sydrome in January 2007 and that's why I'm raising money for Cancer Research UK. The walk took almost 18 months to plan and nine months to train for."
If anyone would like further information on the walk or would like to donate they can Prof Huxley's JustGiving page at www.justgiving.co.uk/jonhuxley.
Becky Elphick, area volunteer manager for the charity, said: "We are truly grateful that Jon is supporting Cancer Research UK."
If you would like any further information about Cancer Research UK or details of how to get involved, visit www.cancerresearchuk.org or call 01865 716655.