All guidelines by the Advisory Board on Cat Diseases (ABCD) on the tenmajor infectious diseases in cats have now been issued, and have been madeavailable online.
A comprehensive and illustrated synopsis of the guidelines was published in the July 2009 issue of the Journal of Feline Medicine and Surgery.
Pre-publication copies were distributed at the occasion of the ABCD guidelines launch ceremony, which took place at the annual congress of the European Society of Feline Medicine (ESFM), in Dubrovnik.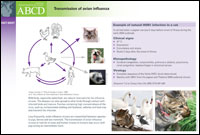 In addition to making vaccination recommendations, the guidelines cover the pathogenesis, management and prevention of feline panleukopenia, feline herpesvirus and calicivirus infections, FeLV, FIV, rabies, feline infectious peritonitis, Chlamydia / Bordetella infections and H5N1 avian influenza in cats.
ABCD chairman Marian Horzinek said: "This is a milestone achievement. These evidence-based guidelines are the result of a lengthy process leading to consensus opinion."
However, guidelines are not set in stone, he added: "Ultimately, the decision is up to the practitioner, who is expected to use the recommendations as a tool in risk assessment for each case, taking into consideration the local disease prevalence, age, lifestyle, vaccination history, health status and living environment of the cat concerned."
FACT SHEETS: Educating the owner
A complete set of fact sheets were also made available: Two-page abstracts highlighting the main data contained in the ABCD guidelines, all containing illustrations to help educate the cat owner in disease prevention and management.
The fact sheets are also intended for use by veterinary practitioners for quick and easy reference during vaccination consultations or telephone queries. Available in several European languages, they can be downloaded from www.abcd-vets.org.