One of the abattoirs at the centre of an undercover investigation into UKslaughterhouses has responded to allegations about the behaviour of oneof its employees.
The campaign group, Animal Aid, singled out one stun operator/slaughterer at AC Hopkins (Taunton) Ltd in Somerset, calling for him to have his licence revoked and for him to be prosecuted for animal cruelty and multiple breaches of animal welfare legislation.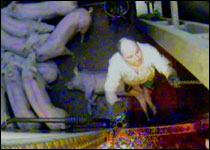 The Animal Aid report stated: "It is chilling that the line between desensitisation and callousness was, in our view, so routinely crossed by the slaughterman at AC Hopkins.
"On several occasions he failed to stun animals adequately and – instead of immediately re-stunning them to end their suffering – he watched as they flailed on the floor, or sat on haunches gasping for breath.
"There is no excuse for such behaviour. Rather than stun pigs thoroughly the first time, he was content to deliver a single, or a series of, electric shocks, which did little more than inflict serious pain and floor the animals.
"In his struggle to get the shackles onto a thrashing part-stunned sheep or pig, he showed his ineptitude as well as his insensitivity. On occasions when he could easily stun an animal cleanly, he chose, instead, to goad them into a position that was more convenient for him, by jabbing at them with the tongs."
English slaughterhouses exposed: AC Hopkins from Animal Aid on Vimeo.
Speaking on behalf of AC Hopkins, Stephen Lomax, technical advisor to the Association of Independent Meat Suppliers, admitted that standards of stunning and associated operations in that abattoir were "unsatisfactory".
He said: "The abattoir industry seeks to promote not merely legal compliance but very high standards of animal welfare. As a consequence, we are in favour of any examples of poor practice receiving official attention immediately. AC Hopkins relied on the MHS official veterinarian to draw to their attention any issues regarding animal welfare. The company is therefore surprised that the official veterinarian did not observe any of the problems recorded during filming.
"While recognising that animal welfare is entirely the responsibility of the plant's operator, the employee in question had worked for the company for only three months, having previously worked for many years in a very large abattoir which is now closed. As a consequence of his experience and the fact that he had a certificate of training in animal welfare, the company assumed that he was an appropriate person, although with hindsight this was not the case.
"As a consequence he is no longer working in any connection with live animals. The MHS have suspended his licence pending an investigation and AC Hopkins are conducting their own internal disciplinary procedures."