Campaigners are calling for a ban on the exotics pet trade as a new study reveals that at least three-quarters of exotic animals bought in the UK die within a year of purchase.
At least three-quarters of exotic animals in the UK die within a year of purchase, welfare campaigners and academics have found.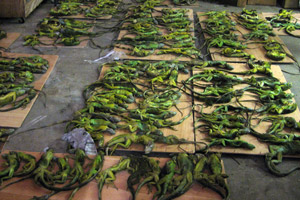 Writing in The Biologist magazine activist Elaine Toland and biologists Clifford Warwick and Philip Arena used import and domestic breeding figures to estimate at least 75% of pet exotics die within one year in the home.
Sadly, it is believed that many of these creatures – some of which could expect to live for up to 120 years in the wild – die from captivity stress-related causes.
Ms Toland, director of the Animal Protection Agency, says the 75% figure is "truly tragic" and claims a ban on the exotics pet trade is long overdue.
"The trade in wild-caught and captive-bred lizards, snakes, tortoises and turtles is wasteful, destructive and inhumane, and even the most conscientious and well-intentioned keepers cannot realistically provide for all these animals' biological needs," she said.  
"The public would never tolerate three out of four dogs dying annually in the home, and nor should we tolerate such premature mortality in reptiles."
Speaking to Vetsonline, Ms Toland also suggested that vets should be making more noise on the subject of exotic sales.
"They need to be more outspoken about what's going on with these pets – these are problems vets will be aware of, but these animals are shut away in glass boxes so are less visible," she said.
"Now we have this academic information it's all the more reason for vets to start speaking out."
Supporting calls for a ban Mr Warwick, of the Emergent Disease Foundation, added: "Both formal regulation and enforcement, along with years of efforts at educating people about the major problems inherent to wildlife trading, have fundamentally and grossly failed to control what has been a persistent and exacerbating environmental, animal welfare and human health mess.
"The more one looks into the exotic pet trade, the worse it gets. The only way forward is a ban on trade."