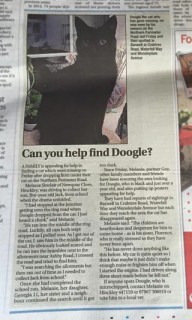 One of our cats – Doogle, a home-loving feline who rarely sets foot outside the garden – recently got himself caught under my mum's car, only to drop out when she'd driven along a few streets and run, startled, across the fields toward the next village.
Posters, local press coverage and Facebook shares resulted in a few potential leads on his whereabouts (we'd localised him to 2-3 miles from home) but, as a cat that doesn't normally roam far, we never thought he'd find his own way back. The only comforting factor was the knowledge he was microchipped – should someone find him and take him to a rescue centre or vet, he'd be returned to us.
Cats vs. dogs
As cats tend to stray (or get lost), the advantage of microchipping them is clear, but it isn't a legal requirement. It will, however, become law in England and Scotland for dogs to be microchipped from 6 April 2016. This change in the law means that all dogs must be chipped by 8 weeks of age and the appropriate details registered to the chip must be up to date.
Unfortunately, while we did have Doogle microchipped, we realised we hadn't registered our contact details with the microchip company, despite him being 18 months old and having been chipped as a kitten.
This is something many dog owners will have to consider in line with the new law: if an owner does not keep the dog's information up to date on a relevant database, or the dog is unchipped, a notice may be served giving 21 days in which to rectify the situation. If they still fail to comply, a fine of up to £500 can be issued or the dog may be seized and microchipped.
Raising awareness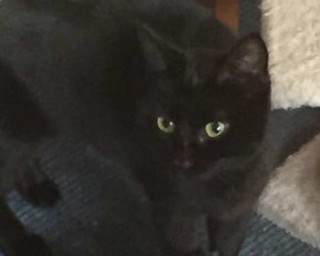 Ignorance is no excuse, so we must make clients aware of the new regulations, and in some cases, the exemptions:
Working dogs that have their tails docked in accordance with the Animal Welfare Act 2006 are allowed an extended time limit of 12 weeks before they must be chipped (this applies to England and Wales only – tail docking is entirely banned in Scotland).

Implantation can also be delayed if a vet believes it could adversely affect a dog's health. In these cases, the vet must certify this is the case and state the expiry of the exemption, by which time a chip must be inserted.
The introduction of the law will help trace inherited defects, tackle puppy farming and promote responsible dog ownership, not to mention the peace of mind that chipping gives owners should their pets be lost or stolen.
Much to our disbelief, Doogle managed to find his own way home two weeks after he first went missing, so we never relied on his microchip for him to be returned, but we can now appreciate the relief of knowing it's there (with the correct details registered) if he ever disappears again.