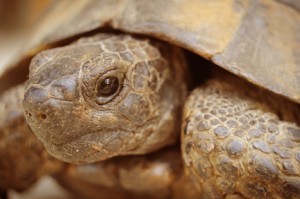 Hold the stomach tube against the plastron of the tortoise with the tip at the caudal end of the abdominal shield.
Make a mark on the tube just cranial to the jugular notch.
Sit the tortoise upright on its tail and hold the head out of the shell with the middle finger and thumb on each side of the neck. This will extend the oesophagus.
Open the mouth, using the forefinger to prevent the tortoise closing it again.
Lubricate the stomach tube (KY is fine) and press the tip through the mouth and over the back of the throat. It should slip down easily and you may feel the tip passing through the cardiac sphincter. Stop when the mark on the tube enters the tortoise's mouth.