Hollie has had a big month. She's had surgery and now we've started behavioural therapy. To be fair, she's generally a bit anxious as she hadn't really been socialised at all until we got her at six years old – so she's always been a bit behind the usual socialisation time frame.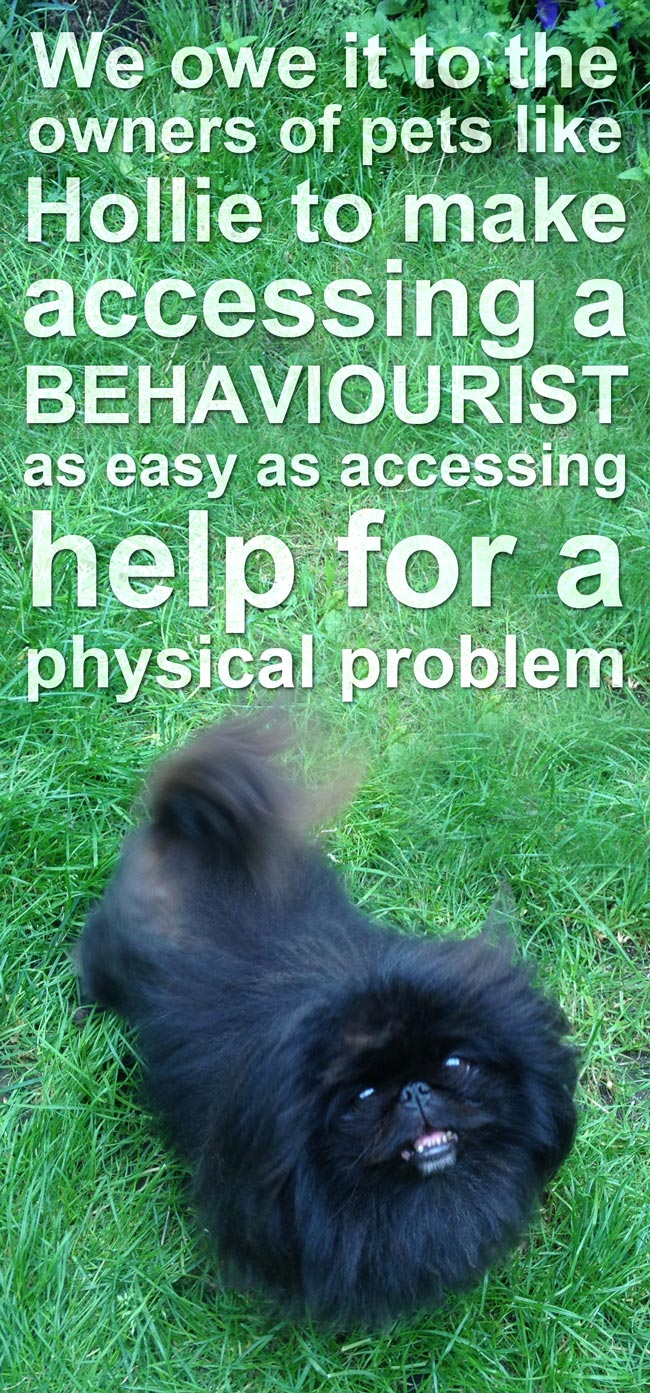 We cope with everything well. We make changes to our lifestyle to help her and she's generally a happy girl. Obviously she still likes a bit of Peke drama and stubbornness, but we actually like this aspect of her behaviour.
However, recently, she's been showing some stronger stubborn signs.
Tiddely-om-pom-pom
We regularly go to a cottage by the sea. It's the best place. Peaceful. Relaxed. We all enjoy it… or, we did.
In the past few months Hollie has decided that, actually, it's not for her. Example scenario: she doesn't want to go into the garden. However, once in the garden, she doesn't want to go into the cottage. Now, once in the cottage, she makes the most of opportunities to dart out of the front and back doors. Then, after a walk, she won't go back in.
Needless to say, it means our trips to the coast aren't as stress free as they once were.
We've increased the treats on offer, used plug-ins, made more beds to hide in, but to no avail. Therefore, I started to feel I didn't know enough to go further without help. Basically, I needed to be sure good mental health was achieved for both of us.
Jumping hurdles
As we're good owners, the first route we went down was trying to find a behaviourist, but I didn't realise at the time what a long trip that would be.
There were a couple of hurdles:
Behaviourists I knew at home wouldn't travel that far
The vets near the cottage didn't have anyone they used
The insurance company, meanwhile, requested people registered with only certain behavioural bodies, so, I focused on these. However, one listed mainly dog trainers, with no behaviourists in the vicinity of our cottage, while the second listed three: one for cats, one who didn't work in behaviour any more, and one, which, quite frankly, was dreadful…
I spoke to someone who confirmed the named behaviourist didn't cover the area we needed, but they would get someone else – from 120 miles away – and before I could ask any questions about this person's qualifications or experience I was informed I would need to pay mileage for the consults and any other visits.
This was all delivered in a rather impolite tone that understandably put me off finding out more.
Time sensitive
So, where did I go from here? Time was ticking – I know the longer you leave behaviour problems the worse they can get, so I felt there was nowhere to go.
Turning to social media, I decided to ignore the insurance company lists and try and find someone myself – and it worked. Though I still had people not return my calls, the VN community came good.
Thankfully the person I found was great to talk to on the phone. Also, she totally understood the problems with finding a behaviourist as my story was one she'd "heard before", which is sad.
I wonder how many people have tried to seek behavioural help, encountered the same problems as me, and didn't have the VN community to ask? I also wonder how many have then gone with available "behaviourists" who actually didn't know what they were doing, possibly causing more harm than good? Therefore, I also wonder how many of these pets are now in rehoming centres?
Not-so-easy access
One of the hurdles I had was deciding which behavioural body to search through – there are so many and it's hard to tell them apart. There's also little information on the differences between them, which can be really confusing for clients. I mean, it confused me!
More worryingly, as it stands, there are no requirements for people to sign up to any behavioural organisation or follow any regulations. While there are many groups trying to set up their own professional body, I feel the industry needs something covering everyone who wants to work as a behaviourist. Surely, there must be some common ground between all the current bodies that can be agreed on?
We owe it to the owners of pets like Hollie to make accessing a behaviourist as easy as accessing help for a physical problem. Mental health support is not just for us humans.