This is a more personal piece this week, but relevant to all clients who need a helping hand to get on the "pet ladder" – like the housing ladder, but with the investment in unconditional love.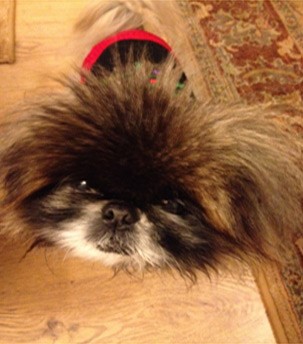 We are starting to look at our options with regards to a new dog. Our last was a rescue Peke that "arrived" and fitted in straight away. Since we lost him, it will be harder to locate another Wilson as I no longer work in charity practice where "special" dogs arrive regularly.
We need a small dog that is cat friendly, as the family now consists of me, my husband and an aged Persian. I am able to take a dog to work, which is brilliant.
Although we will pursue an older rescue dog, my husband is still new to dog ownership and I wanted to show him a variety of different breeds, so off we went to Discover Dogs, The Kennel Club's annual event at Earls Court. Would we find the information we needed?
There are more than 200 breeds on show, so if you're choosing by looks (husband!) and personality (me!), then it is a good place to compare breeds. The major charities are also there to promote rescue centres – however, most people seemed to be on the puppy hunt.
We asked similar questions about a variety of breeds and enquired about their rescue availability. The answers and advice varied tremendously, which made me start to question how the average non-dog owner could be expected to become an informed and responsible dog buyer and owner.
If we were looking for an older dog we were advised:
ex-breeding dogs may be available
ex-breeding dogs should never leave their original owner
breed rescues are out for themselves and take the best dogs
with a rescue dog we would need to commit to at least three months at home with the dog, and not leaving it, EVER!
it would be unlikely that an older dog would adjust to any sort of kennelling or live with a cat
Apparently, we would need a puppy if we wanted to introduce a cat or if we wanted to leave the dog for more than two hours in any one day – and if I wanted to take the dog to work (where we have comfortable kennels), I could not have any of the breeds I was looking at as they "would not kennel well". We were also informed of minimal exercise requirements for many toy breeds – garden only is acceptable, apparently.
One breeder also suggested a paraplegic dog with a potential slipped disc could be cured with home physio and no need for veterinary treatment. She also stated she had removed dogs from veterinary care in these circumstances, to prevent what she felt was "unnecessary surgery".
Overall the advice was conflicting and confusing. We would, of course, be able to work out our own exercise and veterinary care regime, but would people without experience of a veterinary environment be able to do the same?
In basic terms of just acquiring a dog (if a puppy and older dog would not be appropriate to my relatively dog friendly lifestyle), where would I get a dog if I wanted one? I felt my options were:
Lie about our lifestyle – and risk getting incorrect advice
Find a popular breed I liked – and buy it on the internet
It was an interesting day and I'm glad we went, but how people manage to navigate the conflicting information out there with less information than I have access to is a mystery. Hopefully vet practices can be of more sensible assistance.
Client friendly pet advice is available from The Kennel Club website, which is good for asking the question "are you ready for a dog?" and narrowing breed selection by client preference for exercise needs, size, town or country dwelling and/or grooming needs.
Other useful websites include:
Get Puppy Smart (particularly child friendly)
RSPCA (very thorough with a variety of links to further information)
Battersea Dogs & Cats Home (has a handy PDF factsheet to print out)
Pup Aid (campaigns against puppy farming and is a useful resource)
I'll keep you posted on our search. It's going to be a sad Christmas without Wilson, but I am staying strong to wait and get the right dog for us, not the right dog for now. Help your clients do the same!
Have you considered pre-puppy classes at the peak buying times over and just after the school summer holidays? Engage your clients before they ever need you!