Having acquired two new bundles of fluffy joy this year, our Christmas tree is looking a little worse for wear. Now six months old, our kittens' new favourite game is trying to de-decorate said tree at lightning speed.
Many clients are aware of the edible dangers to pets at Christmas time, but the tree itself, while one of the most prominent symbols of Christmas time in many homes, may not immediately come to mind as one of the seasonal hazards for our animals.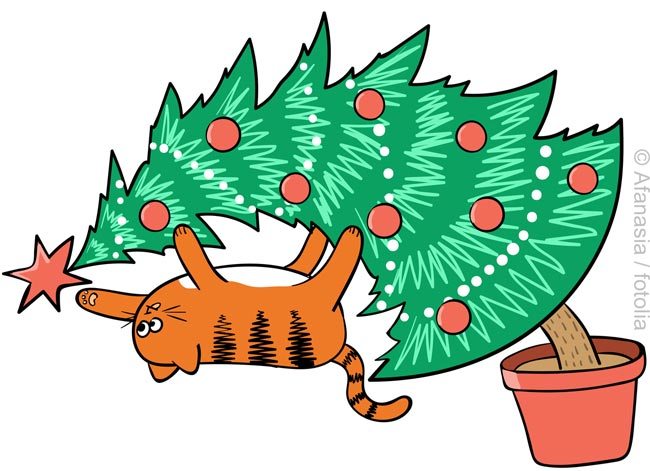 For cat-owning clients, here's some top tips on cat-proofing the tree this Christmas:
Fake snow
There have been some reports of adverse reactions in cats who have ingested the fake snow found on some artificial trees. If cats are seen licking or chewing the tree, clients should watch for any unusual behaviour (vomiting or seizuring, for example) and seek veterinary advice ASAP.
Anchoring
Ensure the tree has a sturdy base or is attached to a wall to prevent toppling if the cat climbs it. A tree skirt can hide an unsightly base (but my cats tend to try to destroy these too).
Positioning
Placing your tree at a distance from any "launch pads" such as shelves or the arm of the sofa may discourage cats from taking a leap at the tree.
Choose decorations with care
Avoid fragile glass decorations or baubles that are likely to smash – these may cause injury if your cat does climb and topple the tree.
Pine cones
It appears cats don't like walking on pine cones, so placing them under the tree can discourage nosy pets from getting too close. I can't vouch for the success of this one, however, as I haven't tried it…
Beware of foreign bodies
Tinsel is irresistible to cats but may result in a linear foreign body, so watch out for persistent vomiting. Even if no symptoms are seen, but you suspect your cat is steadily chewing through your supply of tinsel, a check with the vet may be worthwhile.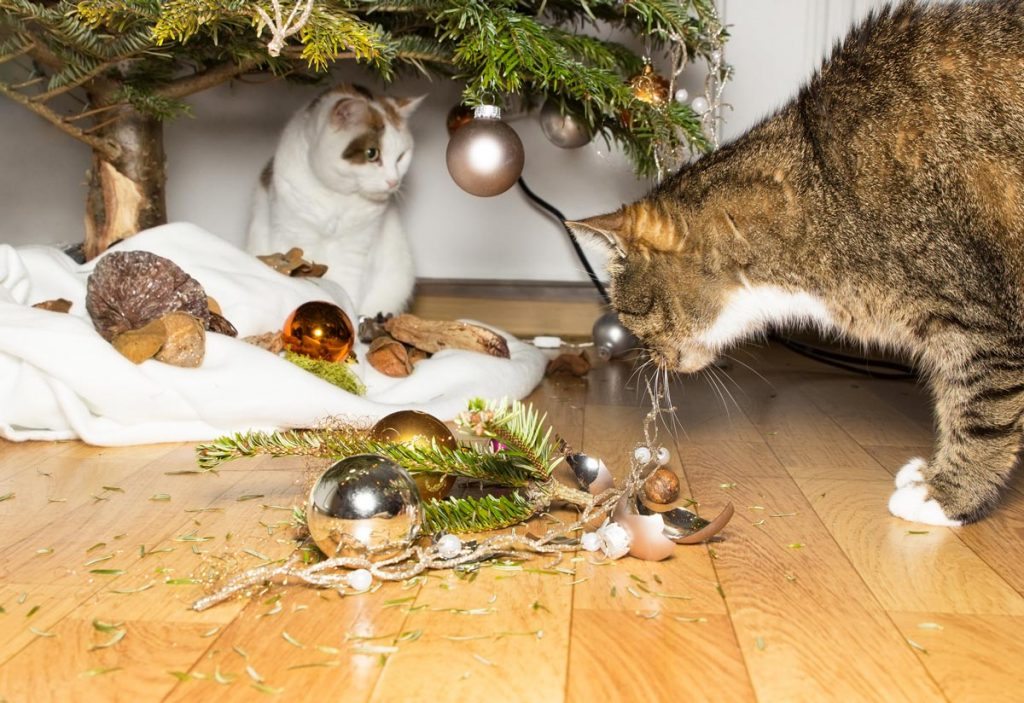 Likewise, fake berries and other dangling decorations may end up in cats' stomachs, so keep an eye on what your cat is keeping an eye on.
Wires
If your tree looks like a flashing beacon you may want to protect any loose wires around the base of the tree to prevent them from being chewed. This can easily be done using cardboard tubes from the centre of kitchen roll, for example. This will protect your cat from injury and keep your tree lighting the room.
Suspending the wires can avoid damage if your cat urinates under the tree. However, if your cat chews the wires hidden in the boughs of the tree itself, consider abandoning tree lights altogether.
Avoid chocolate decorations
Cats are less likely to raid chocolate gifts and decorations than dogs, but I still wouldn't take the risk of having something poisonous dangling from the tree, which are just asking to be chewed by your moggie.
Have a wonderful Christmas everyone, obviously, but remember – among the madness of it all – to keep your pets safe among the madness of it all.